Washing Machines Need TLC Too
4/1/2019 (Permalink)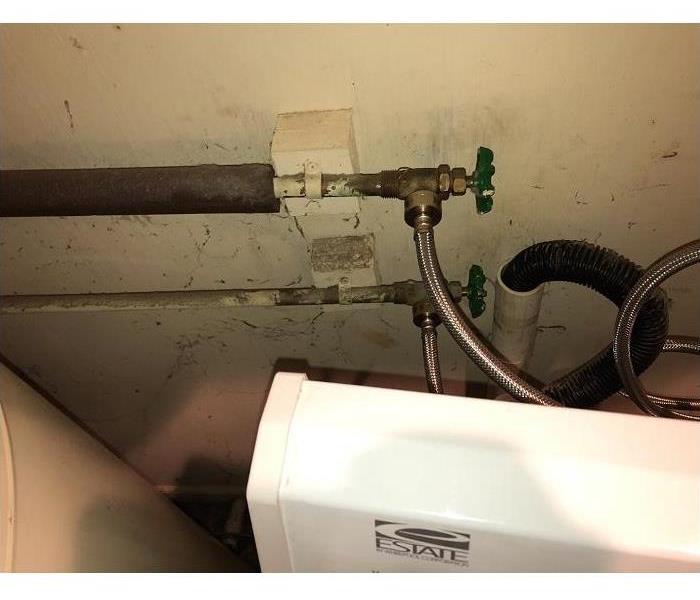 Replacing the water supply line hoses to your washing machine is a way that you can reduce the risk of them leaking or worse, bursting.
Of all the chores around the house, laundry seems to be the most daunting task. It never seems to end, and I am only responsible for my laundry, I cannot fathom what those with families go through. But no matter your family size, your washing machine is one of the hardest working appliances in your home and needs some TLC now and then. Your car requires maintenance; change the oil, rotate the tires, flush the radiator. Shouldn't the appliance that makes sure your clothes are clean deserve the same?
A simple way that you can maintain your washing machine is not to overload it with items to clean or detergent. Suds and bubbles flowing out of a washing machine make for fantastic '80s and '90s sitcom laughs, but they can cause significant issues. On top of the apparent water damage, laundry detergent can stain or bleach flooring and can lead to delamination. Putting too many items in a washing machine is another potential disaster waiting to happen. The barrel may become unbalanced and force the machine to rock and potentially jar the water supply connections lose. Preventative action can go a long way to maintain the life of an appliance.
One of the best ways that you can show your washing machine some love is to change the water supply line hoses around every five years. Over time these hoses can become weak or brittle, and risk cracking or bursting. And can create a tiny leak that can cause long term water damage, or a burst hose can rapidly unleash gallons upon gallons of water flooding multiple rooms and creating significant water damage. Neither of these options sounds very pleasant, and while replacing the supply line hoses will not 100% prevent either one, it does lower the risk substantially.
There is no "best" type of hose to pick as the replacement, as each manufacturer and model of washing machine are very different. That is why it is best to consult your washer's owner's manual before you make any decisions. You can also check out the manufacturer's website to view any certified service suppliers to perform the hose exchange for you.
Take care of your washing machine just like you would a vehicle, and just like a vehicle, it will take care of you for a long time. If your washing machine or any other appliance in your home has a malfunction and causes water, fire, or smoke damage contact our SERVPRO of East Greenville Team.